---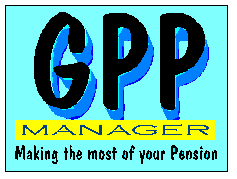 Click here for release status GPP2011
GPP MANAGER SOFTWARE
This is the GPP user page .... news, updates and order forms..
---
Group Personal Pensions via salary sacrifice work on the principle of an arrangement between the employer and the employee under which the employee receives a lower salary and the "reduction" is paid into the employee's personal pension fund by the employer. The advantage arising from this is that the employer and employee both pay less tax and National Insurance because the salary is less. If the combined tax savings are paid into the pension fund, neither the employer or the employee are worse off than if they were participating in an ordinary fund arrangement, but the pension fund can be boosted by up to 31.2%* - a massive bonus that is reflected and compounded in the pension value at retirement. More information...
* 2006 tax year
However, doing the sums to calculate and maintain an equitable arrangement that means neither employer or employee is worse off is complicated. GPP Manager does the sums for you, and much much more.
** WHO NEEDS GPP MANAGER? **
Financial Advisers selling pension services
Employers looking for the best deal for their employees.
** WHAT DOES IT DO? **
Keeps details of member's and employer's pension payments
Calculates net and gross payments (with or without salary sacrifice) based on current tax legislation
Displays and prints letters, reports, examples and promotional material
& much, much more!
** TECHNICAL DETAILS AND PRICES **
Runs on Windows 98/2000/XP, Windows NT workstation
Standalone (NOT server/client)
Needs 12Mb disk space
GPP Manager is £tbafor the current version and £tba for the annual Budget and upgrade pack